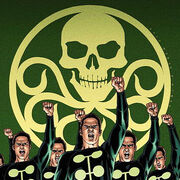 Welcome to H.Y.D.R.A. The best criminal orginization there is. Welcome to the team. With our technological advancements we are sure to achieve the goals we want in creating a new fasict world order through are many terrorist and subersive activites.
Messages from the Leader and Lt.
Edit
Daniel - Frostbyrne
-Leader of H.Y.D.R.A
 – The only thing stopping me from freezing you is my gloves... Be thankful.

Welcome to H.Y.D.R.A!
Lieutenants
Edit